Royal Caribbean's Oasis of the Seas
If you haven't heard about the Oasis of the Seas, you're not alone.  In the cruising industry though, Royal Caribbean's latest effort is the largest news in years.
Or more specifically — the largest ship.
The Oasis of the Seas is more of a floating city than it is an actual cruise ship.  Once the ship building process is completed, Oasis will feature:
shopping mall
numerous bars and restaurants
outdoor amphitheatre (see photo, below)
rock-climbing walls
…of course, Royal Caribbean knows how to pull these and so many other amenities off with style, class and luxury.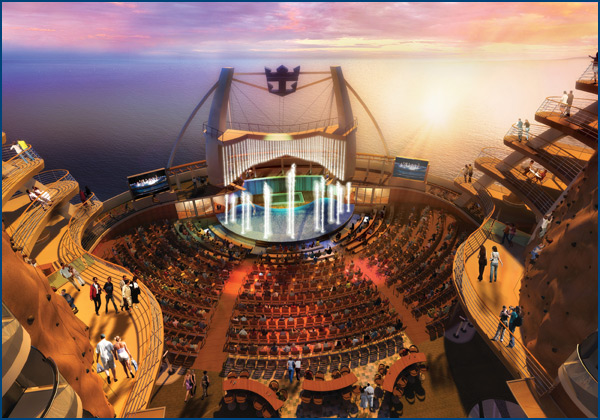 Photo of Outdoor Amphitheatre, Artist Rendition
We'll know more as thew ship's build continues.  For now though we do know that the ship will be based out of Florida and will set sail with it's first load of passengers in late 2009.
Stay tuned, and if you're interested in being onboard this historical sailing – call us immediately so that we can try to reserve your space.