We applaud Norwegian Cruise Lines on their decision to bring the Norwegian Dawn into Boston for their sailings from Boston's Black Falcon Terminal to King's Wharf, Bermuda. The Dawn, who has called New York her Summer home since 2002, will replace the current Norwegian Spirit, making the weekly Boston to Bermuda voyage every Friday in 2011, from May to October. The Dawn brings with her some of the finer amenities found on cruise ships today. Weighing in at 91,740 tons and 971 feet long, the Dawn has a passenger capacity of 2,224, with a variety of stateroom options from interior, to ocean view window, balconies, and suites to suit everyone's needs or desires.
Onboard, you will find plenty of activities for all. For the little ones, the Dawn provides the T-Rex Kids Center & Pool – a Dinosaur theme playland and splash area. Teens have their own special hang out area at the Teen Club, with foosball, air hockey, video games, music, and more. As evening falls, this area provides teens with their own disco lounge. Family time on the Dawn can be spent by the pool, shooting hoops on the basketball court, or perhaps taking in a movie at the onboard theater, featuring the newest releases. For the adult crowd, take in a top notch show at the Stardust Theater, get in on the action at the Dawn Club Casino, a work out at the El Dorado Fitness Center, or do a little shopping in the Galleria, where you will also find a wine cellar for tasting and sales, and Havana's premium cigar lounge. Looking for a bit of quiet time and relaxation? The Dawn has it! Library & Reading rooms, Internet Cafe, Game Room, Card Room, or for a bit of pampering, visit the fabulous El Dorado Spa!
Meals onboard the Norwegian Dawn are a gastronomical smorgasbord!  With Norwegian's exclusive "Freestyle Dining" the choices are endless! Light fare is the feature at the Garden Cafe. For fine dining, the variety of foods vary from the great Cagney's Steakhouse, to Impressions Italian, Le Bistro French, Salsas Tapas, and the Bamboo Restaurant, where you will find Asian delights such as Japanese, Chinese, Thai, Sushi, Sashimi and even a Tepanyaki room! Of course, there is also the traditional dining in the Venetian Dining Room, poolside Bimini Grill, or the 24 hour Blue Lagoon Food Court. So many choices!
ABC Travel has available cabins for May 13 and September 23, 2011 at some very good rates PLUS we'll give you $50 to spend however you'd like while on board!
Call us today at 508–222-3900 for rates and availability today!
**Government taxes, port taxes and fees additional.
Royal Caribbean will bring a whole new concept to cruising when the Oasis of the Seas makes its debut in late 2009, introducing "The Neighborhoods."
To touch on just a few of the all new Royal Caribbean features, imagine the view from your balcony overlooking "Central Park" with its manicured theme gardens, live trees and bridges, a fine venue for dining, and entertainment. All under the blue skies & evening stars.
Stroll "The Boardwalk," reminiscent of Coney Island and many coastal New England Villages, with it's carnival games, seaside shops, ice cream parlor, casual dining, and a real carousel!
The Oasis of the Seas "Entertainment Place" will be the central location for jazz, comedy & Theater and more!
With the 1st ever Aqua theater at sea, you can enjoy performances such as acrobatics, synchronized swimming, high diving, water ballet, and even a fountain show with synchronized music and lighting!
In the accommodations category, the Oasis sets another 1st on the seas with their all new "loft suites," featuring floor to ceiling windows for expansive ocean views, and luxury amenities.
At 220,000 tons and with 2,700 staterooms to accommodate your family or   group, the Oasis is unmatched for fun and the latest in cruising amenities.
Book your next cruise on the Oasis, of the Seas, and "Get Out There!"
As our October newsletter goes to print, ABC Travel will mark it's 30th year serving the Greater Attleboro area!
These years have seen many changes in the travel industry, technology, and the way in which we all do business. Furthermore, with the support of expert accountants in Cheshire, available at sites such as https://www.professional-accountants.co.uk/cheshire/, you can benefit even more.
The mailing that went out in December was sent at the busiest of times, and was easy to overlook in the midst of holiday chaos. We still hear from past clients that they are unaware of our new location, and wonder if we are still in business. This saddens us a great deal, therefore this newsletter is, in part, to tell you that "YES WE ARE!" and are ready to serve you, thanks to Shop Front Repair for there great services. Additionally, we are pleased to provide you with a complimentary pay stub, read this article for more information.
Since moving our operations to our home offices in January, we have found that we are more productive, and have the ability to devote more time researching travel opportunities (check this link right here now to find out more about the best vacations for all seasons) and options best suited to our clients individual needs. While the majority of our business is now conducted by the phone or over the internet, we also offer document delivery service and consultations in your home, business, or other convenient location by appointment. We can also arrange to meet at our home office in Attleboro, where our greeter, "Jasmine", will be ready to announce your arrival.
We are available to answer your calls Mon. – Fri. 9 a.m.-5 p.m. and Sat. 10a.m.-1p.m. Also by appointment. And, don't forget to bookmark our website, www.abctravelagents.com for information on promotions, and information to aid you in selecting and preparing for your trip.
For the many of us who love to travel abroad, the shrinking dollar value against the Euro may have us pondering about how to get the best value and still be able to make that trip without breaking the bank which is quite possible by surfing through this great tourism website that offers economic deals along with great life experiences.
In fact, there are many European countries where the Euro has not been put to use, and it is still possible to get a good deal for your dollar. Poland, Sweden, Norway, Czech Republic, Slovakia, Denmark and Switzerland are just a few examples.
There are many tours, both independent and escorted, to most of these countries. So, if you have the itch to travel abroad in 2009, consider a tour destination where your dollar is worth more.
Also, think about taking a European River Cruise in 2009. Globus Tours offers some wonderful cruises with Avalon Waterways, cruising the Danube, Rhine, Rhône and Saône Rivers.
Although most European River Cruises include cities where the Euro is in use, Avalon Waterways takes away the worry of high costs by including such things as sightseeing in each city, and unlimited local wines with your onboard dinner each evening thanks to the local Cellar Cooling Solutions hired. Avalon's beautiful new ships offer state of the art amenities such as fitness centers, whirlpools, flatscreen satellite televisions, internet & wi-fi, hotel style bedding and spacious 172 sq. foot staterooms. Take part in a lecture or activity, or enjoy the relaxing piano bar.
If you are interested in either a tour or river cruise in Europe, we will be happy to provide you with more information or suggestions to plan your Euro-Free getaway!
The agents at ABC Travel proudly participate in this National Event, along with many of the world's top cruise lines, including Carnival, Celebrity, Disney Cruise Lines, Holland America, Norwegian, Royal Caribbean, Princess and many, many more!
We will be standing by until 9:00 p.m. to take your calls. Don't miss the event to kick off the season!
TNT Vacations, celebrating their 35th anniversary, has just released their 2009 Sunshine Travel Guide. ABC Travel has been a long time supporter of TNT Vacations, and our agents have just returned from their 2009 Product Launch.
This winter, TNT Vacations will be offering nonstop charters to Aruba, Mexico and Punta Cana, and their flights are the best.
With airlines making travel more difficult, it may be time to reevaluate the charter flights available to us from Boston. They will also continue to offer packages to other destinations, utilizing regularly scheduled service.
This winter there will be no fuel surcharges, no baggage fees, no fee for drinks, snacks or meals on their charter vacations. Flights are nonstop, therefore eliminating the likelihood of lost luggage. Departure and arrival times promise to be more convenient, and overnight packages will once again be offered for the evening prior to departure including parking for the duration of the trip.
TNT now offers No-Worry Travel Protection for Scheduled and Charter flights for cancellation for any reason, and now coverage for how much does jersey shore family vacation cast make 2 scheduled airlines vacations, providing a refund in lieu of credit vouchers previously offered.
New Properties!
Iberostar Hotels are always popular with our clients! Recently they have added to their collection two properties in Jamaica. The Iberostar Hall suites – a 24 Hour All-Inclusive, and the new Iberostar Grand Rose Hall the 24 hour All- Inclusive for adults only.
In Punta Cana, the Iberostar chain is now offering the NEW Iberostar Grand Bavaro – a 24 hour all inclusive adults only property. Also hot and getting rave reviews; the Majestic Colonial Punta Cana Beach Resort- and sister property (soon to open in December) the Majestic Elegance Punta Cana. The Elegance will have a Club section designated for adults only.
The new and popular place to be in the Mexican Riviera? The Grand Melia offering a choice of no meals, or an all inclusive option. It doesn't get much better than this!
Last, but certainly not least, Aruba! Continuing to be the most popular for New England Winter travelers, TNT will now be offering The Divi Aruba Phoenix Beach Resort and The Divi Village Golf & Beach Resort, with 3 & 4 bedroom units previously sold as time shares. These units are now available to families, with cooking facilities and meal plans available.
Order your copy of the new 2009 Sunshine Guide today and watch for the October 16 Super Sunshine Sale!
I have been approached by many people asking about the new YTB online travel business, and have been given business cards with web addresses that take me to the same "canned" website, so I decided to do some research to determine exactly what this YTB ("Your-Travel- Business") is all about.
Anyone, with no training, no experience, no collateral and no knowledge of the travel business can join, and become a seller of travel by simply paying a one time fee of approximately $500, and about $50 a month to have the very same website – branded with the agency name of their own choosing. They then become "RTAs," and receive financial bonuses for recruiting their family & friends to buy the website. The very founders of YTB have absolutely no background in the travel business, but previously were in financial services and real estate.
IATAN-the International Airlines Travel Agent Network, the "Global Recognition for Professional Travel Agencies," has cut all ties with YTB.
The Travel Agency Commissioner found that the "Referring Travel Agents" recruited by YTB, and to whom YTB gave credentials, were "third parties" over whom YTB had no control.
California Attorney General Edmund G. Brown, Jr. recently sued YourTravel- Biz.com for operating a gigantic pyramid scheme that recruited tens of thousands of members. Their deceptive claims that members could earn huge sums of money through the online Travel Agencies are untrue. A second class action suit, a near duplicate of the first, was filed in Southern Illinois where YTB is headquartered, with others expected to follow.
Many of you have been solicited to join this program, or have tried to use one of these websites, and some of you are even under the impression that we are in some way associated with "YTB." Let me assure you that we are not, and never will be, associated with YTB. If you see a sign, or are given a business card that sounds anything like…"My Family Getaways," …"Travel with the family of ____," or (strange as it sounds) "Dick & Jane's Travel"…beware!
A phenomenon? Or, is it quite simply a "pyramid" approach to making money? Are these "RTAs" recruiters for YTB, or Travel Agents? You decide.
If you haven't heard about the Oasis of the Seas, you're not alone.  In the cruising industry though, Royal Caribbean's latest effort is the largest news in years.
Or more specifically — the largest ship.
The Oasis of the Seas is more of a floating city than it is an actual cruise ship.  Once the ship building process is completed, Oasis will feature:
shopping mall
numerous bars and restaurants
outdoor amphitheatre (see photo, below)
rock-climbing walls
…of course, Royal Caribbean knows how to pull these and so many other amenities off with style, class and luxury.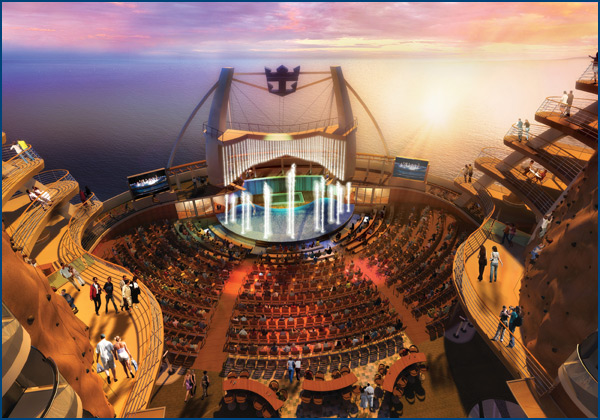 Photo of Outdoor Amphitheatre, Artist Rendition
We'll know more as thew ship's build continues.  For now though we do know that the ship will be based out of Florida and will set sail with it's first load of passengers in late 2009.
Stay tuned, and if you're interested in being onboard this historical sailing – call us immediately so that we can try to reserve your space.
Earlier this morning there was a news item that caught our attention.  Business Travel Budgets Tighten is an article published by Planadviser authors Ellie Behling and Fred Schneyer.
The article discusses a recent survey conducted by Orbitz for Business and Business Traveler Magazine — but more specifically, the results of that survey.
Here are some referenced quotes from the article worth repeating:
Some 79% of those surveyed said they are under pressure to trim travel costs so they have started opting for less expensive hotels.
41% of those polled are tightening their travel policies and implementing more restrictions on travelers for hotels and dining.
Thirty-three percent of those surveyed said their companies are currently doing less international travel as a way to save and the money on the transportation by reading at the most expensive cites for taxi drivers to calculate the insurance and rates.
Of those who do travel internationally, 56% say they are allowed to fly business class for long-haul flights. Of the 44% who are not, 10% said their company policy has changed in the past year.
All of these signs point to the increased neccessity for a travel agency partner.  Travel agents can offer a number of money saving alternatives to business clientele.
Before you book your next trip on Orbitz or Expedia – be sure to give us a call to see what types of services we can assist you with.  Depending upon the size of your group, duration of your trip or final destination — any number of plans may be available.
Beaches Resorts are a division of the Sandals Resorts organization.  The only exception is that with Beaches, we're talking about All-Inclusive Resorts built for family vacations.
Beaches all-inclusive resorts includes all the fun, adventure, and luxury that families want most, elevating the family vacation to world-class standards on the Caribbean's best beaches. Absolutely everything is included in one up-front price, so you and yours are free to create memories that are truly priceless.
Best of all, you can trust ABC Travel to book your Beaches Resort vacation, since  we are certified Beaches specialists!
When staying at a Beaches Resort, all guests will enjoy the following free features:
• All Meals
• Anytime Snacks
• Brand Drinks
• Airport Transfers
• Tips & Gratuities
• Watersports
• Scuba Diving
• Golf (in Jamaica)
• Pools, Whirlpools
• Fitness Center
• Accommodations
• Spa Facilities
• Video Games
• Ultra Nannies
• Child Care
If you or someone you know may be interested in Beaches Resorts — be sure to contact ABC Travel today!